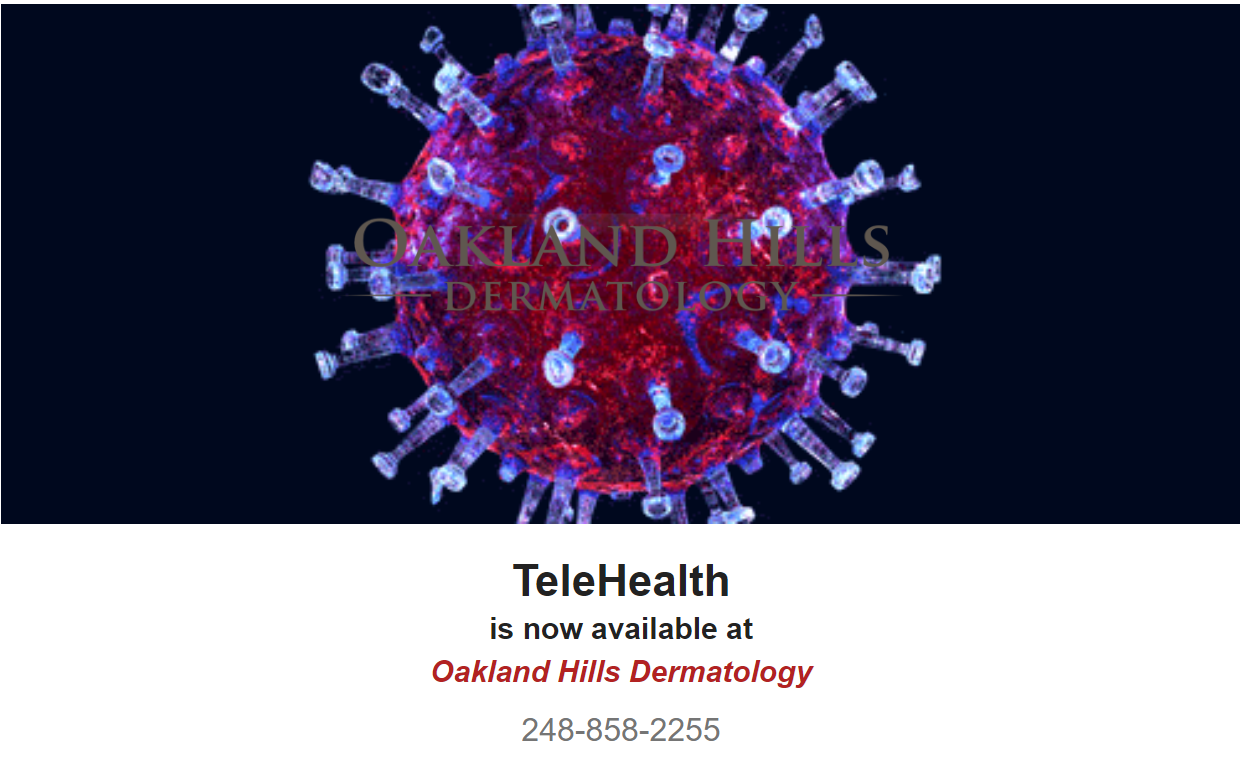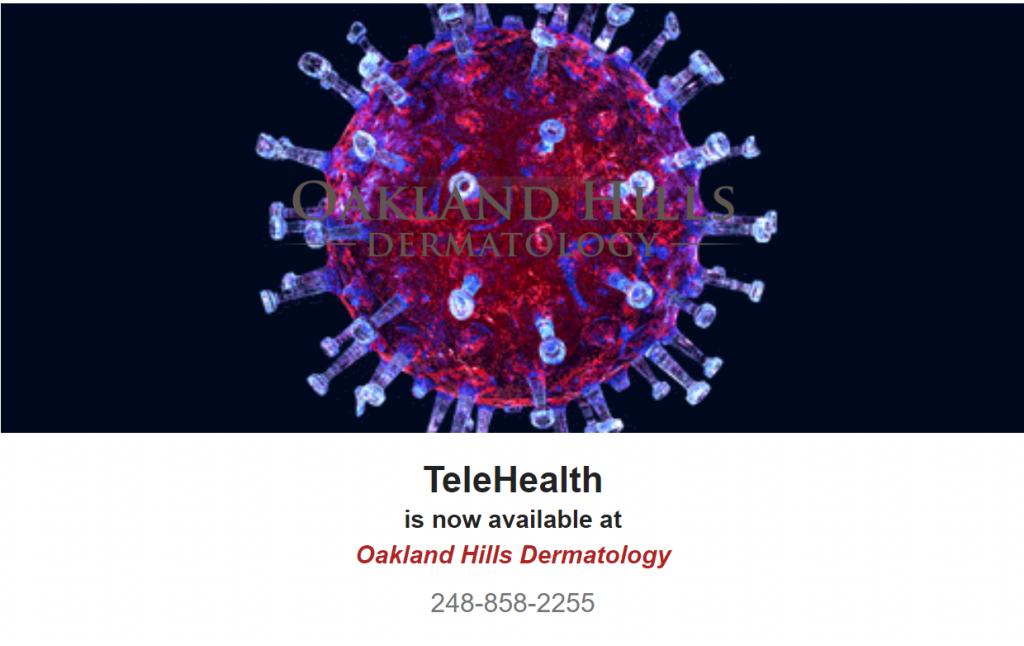 TeleHealth is now available at Oakland Hills Dermatology
TeleHealth allows health care professionals to evaluate, diagnose and treat patients at a distance using telecommunications technology.
Medicare, Medicaid and most major insurers have announced they will cover TeleHealth visits the same way they would cover in-office visits. So the visit gets directly billed to your insurance company. For uninsured patients, the visit fee is $65.
---
Dr. Buatti stated, "We understand patients may be hesitant to visit us during the current COVID-19 pandemic, especially those with chronic conditions or weaker immune systems. Our staff work diligently to keep ill patients isolated and we also disinfect all clinic areas regularly. Reducing the number of patients physically coming into the office also plays an important role in slowing the spread of COVID-19. That's where TeleHealth visits come in. Some patients will be able to remain at home without missing an important visit with Autumn, or myself."

~WE ARE HERE TO HELP~
Do you have a rash?
Do you have a suspicious lesion?
Do you need medication refills?
Are you suspecting shingles?
Do you have spider/insect bites?
Have you recently been burned?
Do you need a follow up to discuss your progress?
Are you feeling ill?
You should see a Doctor.
But not in person, if you can avoid it
.
Instead, visit your provider through TeleHealth. During the Coronavirus outbreak, using your phone could be a matter of life and death.
Now you can connect with us from virtually anywhere at any time!
Just about anything is possible with your mobile device nowadays, including getting dermatology medical advice or treatment for some skin conditions. The CMS (Centers for Medicare and Medicaid Services) currently allows for use of telecommunications technology that have audio/video capabilities that are used for two-way, real-time interactive communication.
Our providers are available Monday through Friday from 9:00 AM to 5:00 PM.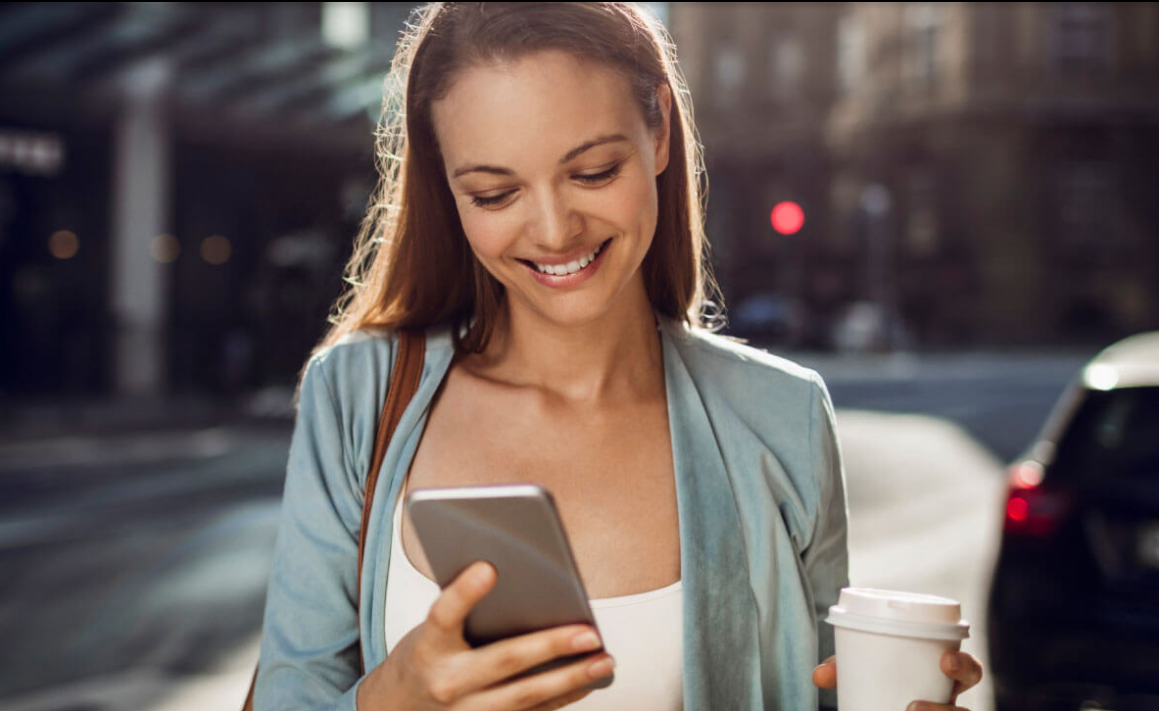 So how do patients request a TeleHealth visit with Dr. Buatti or Autumn? (I thought you'd never ask!)
There are many ways, including:
Call us during normal business hours 248-858-2255
Email us at oaklandhillsreceptionist@gmail.com
Private message our Facebook page https://www.facebook.com/oakhillsderm/
Private message our Instagram https://www.instagram.com/beauty.at.the.hills/
Use the "Contact us" portion of our website to inquire https://www.oaklandhillsdermatology.com/
COVID-19 UPDATE
Like so many of you, we have spent the last several days and weeks learning about the coronavirus (COVID-19) and how it is impacting our world.
At Oakland Hills Dermatology, the safety of our patients, staff and providers is our utmost concern. We are closely monitoring the current situation and are following guidance from public health officials and government agencies, including the Centers for Disease Control and the World Health Organization.
Click here to use the "Contact us" section to inquire about TeleHealth