SCALPEL FREE. PAIN FREE. CANCER FREE.
TREAT NON-MELANOMA SKIN CANCER AND KELOID SCARS WITHOUT SURGERY.
Image Guided-Superficial Radiotherapy or IG-SRT is a safe, painless and effective FDA-approved modality to treat non-melanoma skin cancer such as basal cell carcinoma or squamous cell carcinoma, virtually any place on the body. IG-SRT is not like the radiation used to treat other cancers. Unlike the other more powerful radiation devices used for treating other cancers, IG-SRT is designed to only penetrate up to 5mm below the surface of your skin. It preserves the surrounding healthy tissue while effectively treating the malignant skin cancer cells. In other words, Image Guided Superficial Radiotherapy (IG-SRT) is a proven non-surgical choice that goes no deeper than the thickness of the skin.
Oakland Hills Dermatology is proud to introduce SRT-100 non-surgical radiotherapy treatment for non-melanoma skin cancers such as basal cell carcinoma or squamous cell carcinoma. Our IG-SRT treatment machine contains the most up to date advanced technology that includes ultrasound capability which most cancer centers throughout metro Detroit do not have this capability when treating skin cancers since it has the ultrasound image guidance built in. Also, most cancer centers require the patient to receive their skin cancer treatments 5 days/week whereas with our State-of-the-Art technology radiation treatment machine only requires the patient to come in 3 times/a week. Because the superficial x-rays concentrate radiation dose on the skin surface, SRT-100™ treatment has several advantages over surgical procedures for non-melanoma skin cancers. These advantages include:
Safe & Effective
Same results as surgery without the pain
Very short treatment sessions
Virtually painless / no cutting
Minimal to no scarring / no stitching
Virtually no risk of nerve damage
No anesthesia required
Virtually no post-surgical infections
Faster healing process
No post reconstructive surgery required
99% cure rates
Image guided so only the lesion is treated and the surrounding healthy tissue is unaffected
No down time – you can still shower, play golf, tennis etc.!
The treatment is painless and is typically given 3-4 days a week for a total of 20 treatments. Your initial visit is reserved for simulation and treatment planning and will last about 45 minutes. After that your treatment visits with only take about 15 minutes.
Other than mild irritation at the treatment site, your body is unaffected, and you can resume your normal activities without restrictions.
Patients that would benefit from IG-SRT include those with the following conditions:
Poor wound healing
Skin atrophy
History of MRSA infection
Diabetes
Immunosuppression
Peripheral vascular disease
Lower extremity edema
Those on anticoagulant therapy
Multiple tumors requiring treatment
Inability to perform necessary post-operative care.
SRT is also appropriate for patients desiring to preserve cosmesis, this is especially true for skin cancers on the nose and face.
A NOTABLE AFFECTIVE TREATMENT FOR KELOIDS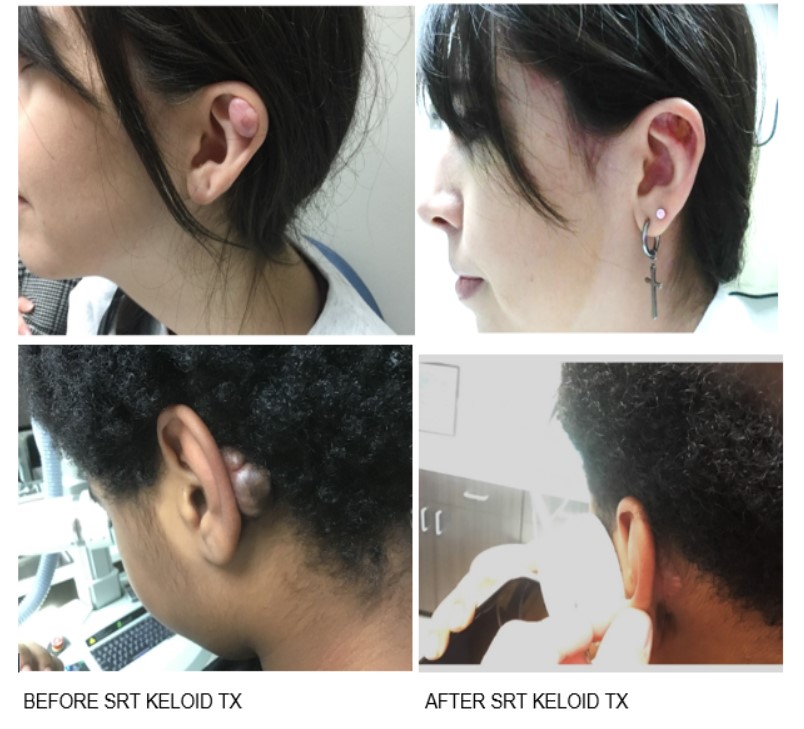 There are approximately 18 million people suffering from keloid scars in the US with new incidences in the hundreds of thousands per year. Providers are often reluctant to surgically remove keloids because they usually return, and sometimes they return even larger than before. But when SRT is administered immediately following surgical removal, recurrence rate drops dramatically to as low as 10%. Keloids only require three SRT treatments within a week period.
Whether you're dealing with a skin cancer diagnosis or frustrated with unsightly keloid scars, we can help! Call today to schedule your SRT consultation.
Basal Cell Carcinoma Right Tibial Inferior
BIOPSY
FINAL TREATMENT
30 DAYS LATER
Basal Cell Carcinoma Right Tibial Superior
BIOPSY
FINAL TREATMENT
30 DAYS LATER
Squamous Cell Carcinoma Right Anterior Scalp Lateral
BIOPSY
FINAL TREATMENT
30 DAYS LATER
Squamous Cell Carcinoma Left Nasal Bridge
BIOPSY
FINAL TREATMENT
30 DAYS LATER